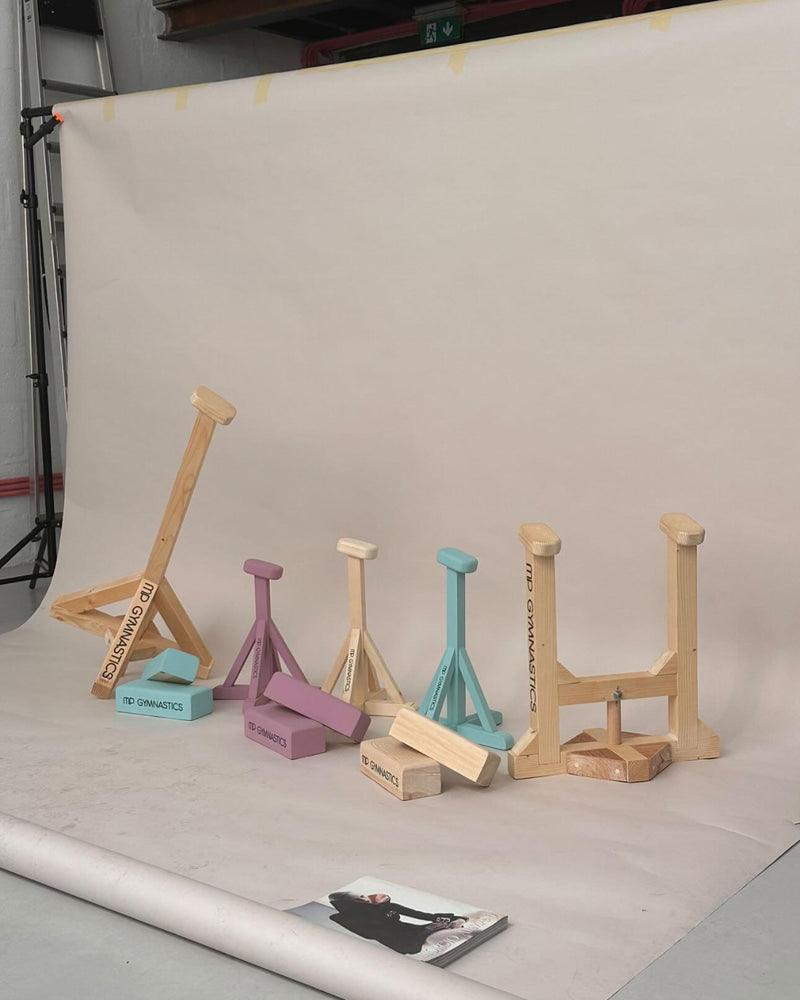 September Recap: A Month Overflowing with Exciting things!
Dear community,
What an incredible month it has been! Packed with thrilling new releases, this month has been a true delight. 😍
September holds a special place in our hearts as it signs the start of a fresh season, and we're passionate about embracing new beginnings. Shall we take a moment to appreciate the highlights of this extraordinary month? ✨
01.09 - MP Photoshoot
We kicked off the month with a BANG!💥 On the first day of September, we "locked" ourselves in the studio for an epic MP Gymnastics photoshoot. But this one had a unique flavor. 
Our lens focused on capturing the essence of our new Blocks Collection (more on that in this newsletter) and a special new leotard that's set to debut in a couple of months... 🤫
However, the pièce de résistance of this photoshoot was the campaign featuring the brand-new training equipment for the Portuguese Senior Acrobatic Team. 🇵🇹 
We brought together some of Portugal's acrobatics legends, and the result is nothing short of mind-blowing. 🤯 
08.09 - The Best of the Best Returns!
Our Handstand Collection holds a special place in your hearts, and we've been listening to your requests. We're over the moon to announce that it's now a permanent resident, available year-round in an array of captivating colors. ❤️‍🔥
But what truly astounded us was your overwhelming response and feedback for this collection! Your enthusiasm left us in AWE 😱, and we were scrambling to keep up with your orders. 🤭
Curious to see what's new in the Handstand Collection? Click the button below to get a sneak peek! 👀
11.09 - Your Valued Feedback Matters!
In case you missed our previous newsletter on September 11th, we want to reiterate just how much your opinion means to us. We make it a point to read every message and consider every piece of feedback we receive. 📩
Your input is not only invaluable to us but also to our fellow customers. That's why we encourage you to share your thoughts on your recent orders. We're eager to hear about your product satisfaction and your overall website experience.
Wondering how to review your order? It's easy!
Product Page:

 

Head over to the product page you adore, and right next to those enticing product images, you'll find the "Write a Review" button eagerly awaiting your insights.
Reach Out Directly:

 

Whether it's through

 

email or a friendly DM on

 

Instagram, we're all ears when it comes to your product feedback. Send us a message, and we'll be delighted to engage with you.
Post-Purchase Review:

 

After you've completed your purchase, keep an eye on your inbox. We'll send you an email that's as effortless as a graceful cartwheel. Simply click the link inside, and voilà! You can leave your review without breaking a sweat.
22.09 - Blocks Collection Now Available!
Since the beginning of September, you've been eagerly anticipating this drop. Your enthusiasm for the Blocks Collection has been contagious, and we couldn't be more thrilled to witness your excitement! 🤩
We've been as agile as real gymnasts, carefully packing these beauties and sending them your way. Pretty cool, isn't it?
If you haven't had a chance to explore the collection yet, now's the perfect opportunity!
29.09 - Power Collection: Embrace the Power within you.
We wanted to wrap up the month with a bang, 💣 and that's why we couldn't wait to introduce the Power Collection to you. It's been three years since our last Power release, and we believe the wait has been well worth it!
Introducing Dreamy and Wavy, the two new stunning colors of the Power Collection. 
Have you had a chance to take a peek? This collection is an absolute dream for our pink and blue enthusiasts. 😜😍
 ---------------
September is behind us, and October is here! What can we reveal about October...?
Well... it's shaping up to be a truly legendary month. 🤭🤫🌟 Stay tuned to find out more!
See you around.

MP Gymnastics Team ✨